For over 120 years the country's greatest golfers have been gathering on the nation's top golf courses. This year, they are coming to Wisconsin's prestigious Erin Hills golf course to determine who's the best of the best in 2017.
Need shuttle services from downtown Milwaukee to the 2017 U.S. Open Championship?
Milwaukee Food & City Tours is happy to be offering a shuttle services for guests in town during the 2017 U.S. Open Championship. The shuttle will pick up at 5 convenient hotels in downtown Milwaukee before heading to the event. Guests will be dropped off at a remote parking lot, go through remote security, then board a different shuttle provided by the event to gain entry to the course. Seats are limited and reservations are required for our shuttle service. Our tickets cost $30 each way. (As a point of reference, the estimated taxi fare is $50 – 60 each way.)
Bus departs downtown Milwaukee at 7:30 am, 8:30 am, 9:30 am, 10:30 am and 2 pm
Bus departs Erin Hills back to downtown Milwaukee at 4 pm, 5:30 pm, 6:30 pm and 8:30 pm.
BOOK YOUR TICKETS HERE or call 414-255-0534.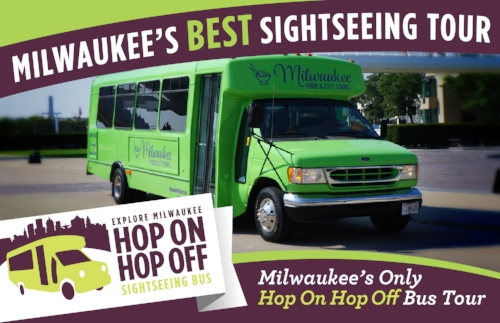 World class dining and entertainment venues for the whole family are par for the course in Milwaukee. However, if you haven't dined, drank, or scored a double bogey in Brew City recently, then take a moment to enjoy this tasty refresher course before grabbing your clubs and planning a trip to the shores of Lake Michigan this summer.
Plan your trip to Wisconsin by booking a unique Milwaukee hotel and finding the perfect Milwaukee attractions. While in town, be sure to check out the many fun (and food!) filled Milwaukee Food & City Tours available while you are in town. Also, while in town why not let us do the driving as you explore Milwaukee on our convenient Hop On Hop Off Sightseeing Bus!
Looking for great places to eat in Milwaukee in-between watching Erin Hills tee times? Here's our Top 5 list of restaurants sure to deliver a hole-in-one:
5. Nibble on Pizza at the Caradaro Club
Check out the original thin crust recipe at Wisconsin first pizzeria, or hop on our always popular and delicious Pizza Bus Tour to explore Milwaukee's rich, deep, and always cheesy pizza history. On our tour we visit not 1, not 2, but 3 world class pizzerias and top it off with a divine scoop of gelato at the end. Just remember this little golf pro tip, when you're hungry after a long day on the course, there's no shame in a slice!
4. Try the Tacos at El Carneval
Mexico is known for amazing food, friendly people, and some of the world's most beautiful golf courses. So, while you are in Milwaukee experiencing the 2017 U.S. Open Championship why not enjoy a siesta and some traditional Mexican dishes and drinks at El Carneval, and authentic taco shop.  Or, join Milwaukee Food & City Tours on our Tacos & Tequila tour in which we'll take you on a 3-hour bus tour adventure to discover 3 off-the-beaten-path hidden gems in Milwaukee's Latin community.
3. Discover Stupefacente Deals in Milwaukee's Little Italy!
Begin your journey with a stop at the historic Peter Sciortino's Bakery on Milwaukee's eclectic and sometimes eccentric Brady Street for a scrumptious cannoli or spumoni cookie. Next, head on down to the iconic Glorioso Brothers' Deli for handmade pasta, a wide selection of imported and domestic cheeses and meats.  Looking for a guided walking tour? Get your fill of all the amazing sights and smells that Brady Street has to offer on our original Brady Street Lunch Tour
2. Go Bavarian at the Most Famous German Restaurant in North America
There isn't a more authentic Milwaukee experience than a stop to the world-renown Mader's German restaurant. Toss back a Spaten Lager or a Bitburg Pilsner while dining among a stunning $3 million dollar art collection ranging from suits of medieval armour to antiques dating back to the 14th century. It's an experience you won't soon forget! Or, join us on our Old World 3rd Street tour to visit, among 5 other locations, this fine German restaurant.
1. Eat Like a Local With an Authentic Milwaukee Fish Fry
Last, but certainly not least, while soaking in all the culture and culinary delights that Milwaukee has to offer, be sure to experience a traditional fish fry at the award-winning Lakefront Brewery. And, while you are there be sure to kick up your heals and 'roll out the barrels' with a traditional polka band, brewery tour, and pints of some of Milwaukee's finest brewed beer!
Or, allow us to show you all that Milwaukee offers to tourists and locals alike! Walking and bus tours are offered daily, with an all-inclusive price including food, drinks and transportation. Some of our favorites not noted above include a Bloody Mary Brunch to start your day off right, and a Craft Brewery & Cocktails tour! Each of these unique experiences visits 4 – 5 locations for generous samples, Milwaukee history and guided fun.
So, in addition to cheering for your favorite Golf Pro while you are in Milwaukee, be sure to reserve your ticket on one of our delicious experiences at www.MilwaukeeFoodTours.com.
Or, simply looking to explore Milwaukee's wide range of food and shopping destinations without having to worry about parking or transportation? Hop aboard the Explore Milwaukee Hop On Hop Off Sightseeing Bus. This convenient option runs every Friday, Saturday and Sunday from 10 am – 4 pm with 11 hop on / hop off stops that make visiting Milwaukee's major attractions and neighborhoods a breeze. Complete route map and details are available at www.MilwaukeeCityTours.com – purchase tickets in advance or buy day-of as you enter the bus as any of the noted 11 locations.