When it comes to Christmas, every family has special traditions they call their own. In Milwaukee, family traditions include the Milwaukee Ballet performance of The Nutcracker, the Milwaukee Repertory Theater's A Christmas Carol, the BMO Harris (formerly M&I Bank) window displays, ice skating at Red Arrow Park, Jingle Bus to view the holiday lights, and of course, Candy Cane Lane.
But, there has always been one thing missing when celebrating the holidays in Milwaukee. While we are a German town by nature, we have never had a Christkindlmarket. These open-air markets with their German roots have been popping up around the world in places including Chicago, Denver and Baltimore. In 2013, Milwaukee Food & City Tours is proud to be a driving force behind the start-up of the Christkindl Milwaukee Market. We are doing so because we want to bring home the traditional German Christmas market tradition to Milwaukee.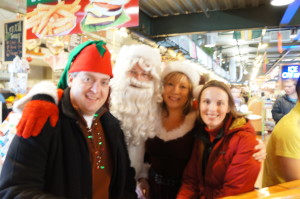 The tradition of the Christkindlmarket can be traced back to the year 1294 when in Vienna they held what was known as a "December market." The market was an opportunity for farmers to come into town to shop and at the same time as offering their wares. With the reformation of the church in the 16th century the markets changed. Saint Nikolaus was replaced by the Christkindl; Nuremberg was the very first city to hold a Christkindlmarket. As time passed the market developed into a celebration and embodiment of the holiday season. To this day, Christkindlmarkets light up communities with fun, laughter, friends, family, good food, and drink during the advent season. Towns throughout Germany and Eastern Europe hold markets unique to their community. Local tradesmen line the streets with their handmade wares that display distinctive regional characteristics. Although seasonal markets are held year round throughout Germany, the Christkindlmarket is an especially joyous event because it brings light and laughter to the cold, dark winter season.
Milwaukee residents may already be familiar with this concept because they have traveled to Chicago for a traditional Christkindlmarket experience. The Chicago market, which takes place in Daley Plaza in downtown Chicago, is known for bringing international traditions to Chicago as is the closest Christkindlmarket to Milwaukee.
In 2013, the inaugural Christkindl Milwaukee Market will be on Thursday, November 21, 2013 – Sunday, November 24, 2013 in downtown Milwaukee outside of Best Place on the Pabst Brewery site. Once visitors arrive at the Christkindl Milwaukee Market, they will be able to explore traditional timber houses with Christmas trees and décor, while shopping many ornament and Christmas vendors, and eating and drinking traditional German items. After the Market opens with a keg tapping ceremony, carriage rides, breakfast/photos with Santa, cookie decorating sessions, live performances, and a prayer service will be available throughout the Market. Of special note, the Market on Friday, November 22, 2013 will be welcoming field trips and provide unique educational and tasting opportunities for German high school students throughout the day.
Milwaukee Food & City Tours will again be offering the ever popular Christmas Around Milwaukee Bakery Bus tour, plus the Christmas Lights & Desserts Bus tour, throughout the holiday season. For ways to celebrate the holidays with Milwaukee Food & City Tours, including details about the Christkindl Milwaukee Market, please call or email us at info@milwaukeefoodtours.com.
If you haven't already done so, please be sure to become a fan of the ChristkindlMKE Facebook page at http://www.facebook.com/christkindlmke as well as the Milwaukee Food & City Tours page at http://www.facebook.com/mkefoodtour