Are you trying to plan a fun and memorable class, family, or even a military reunion? Let Milwaukee Food & City Tours help you create a fun, entertaining, and stress free reunion by organizing a custom tour!
The team at Milwaukee Food & City Tours loves to create custom tour packages that include the best parts of all of our wonderful tour options including eateries, bakeries, beer, and all of Milwaukee's top attractions.
We were thrilled to recently partner with the Wauwatosa High School class of 1951 to create an amazing outing for more than 40 classmates traveling to Milwaukee to celebrate their 65th class reunion. Our tour guide and driver enjoyed the living history lesson on tour with us just as much as the guests enjoyed the experience we created for them!
With mobility concerns in mind, we collaborated with the reunion organizer to create a one-of-a-kind bus tour for the group. The custom city tour kicked off in downtown Milwaukee with sightseeing stops at the Milwaukee Art Museum, along Brady Street and Old World 3rd Street for shopping, a trip through Miller Valley and even a drive past the Harley Davidson headquarters—Willie G. Davidson is one of their classmates, after all!
From there the bus took a turn down memory lane and headed to 'Tosa so the Class of '51 could see how their hometown had grown—and changed – over the past 65 years. The reunion tour included stops along the rapidly growing North Avenue in East Tosa to see newer establishments such as Indulgence Chocolatiers, Bel Aire Cantina, Rocket Baby Bakery, Cranky Al's, Il Mito and Red Dot. Many of the tour guests had grown up within walking distance of this now bustling neighborhood and enjoyed reminiscing about their many good friends in Wauwatosa.
One thing that hadn't changed though – the legendary Ted's Diner. Tour guests took a step back in time as they peered inside at the diner's timeless charm including rounded windows, counters, and red swivel stools and spoke fondly of the ice cream molds that their mothers would order for Christmas.
Continuing west on North Avenue, the tour passed Tosa Bun and Bowl, now a popular a deli. Many members of the Wauwatosa High School Class of 1951 recalled when the former bowling alley was a popular hang out spot. In fact, one guest shared that his first job was as a pin setter at the bowling alley back in the day, when he was paid seven cents a row for setting up the bowling pins by hand.
Continuing west, guests recalled their after-school stops for sugary treats at Mother Goose House and as well as another candy counter at the then much smaller location of Ray's Liquor.
Of course, this trip down memory lane wasn't complete without a quick stop at their old stomping grounds, the common denominator that brought them together in the first place—Wauwatosa High School (now known as Wauwatosa East High School). The classmates enjoyed recalling the many hours they'd spent learning and building friendships in the hallowed halls of Wauwatosa High.
The trip concluded with a stop at the Hoyt Park Pool, whose recent renovation and rebirth was supported by many of alumni of the school, with lead gifts provided by their fellow Class of 1951 classmates, John & Tashia Morgridge. We learned from our tour guests that back in 1951, it was home and practice pool to members of Wauwatosa High School's state championship swim team. The night prior to our tour during the reunion weekend, everyone met at the pool for cocktails – and a little rivalry when 3 of the still swimming classmates (ages 81, 82 and 82 respectively) hopped in the pool to swim laps down memory lane!
The custom high school class reunion tour provided an affordable and stress free event for the entire group and for the reunion committee chairman, Ron S., who had this to say about the experience, "THANK YOU for taking us on a wonderful tour – much more than I expected. And, the tour of Wauwatosa was an unexpected surprise! It brought back a lot of memories for those who have been away for years. We had an excellent driver and superb guide. We all had fun remembering things like using the tunnel under Wauwatosa Avenue to get to and from classes in the building across the street from the main high school building. A wonderful experience!"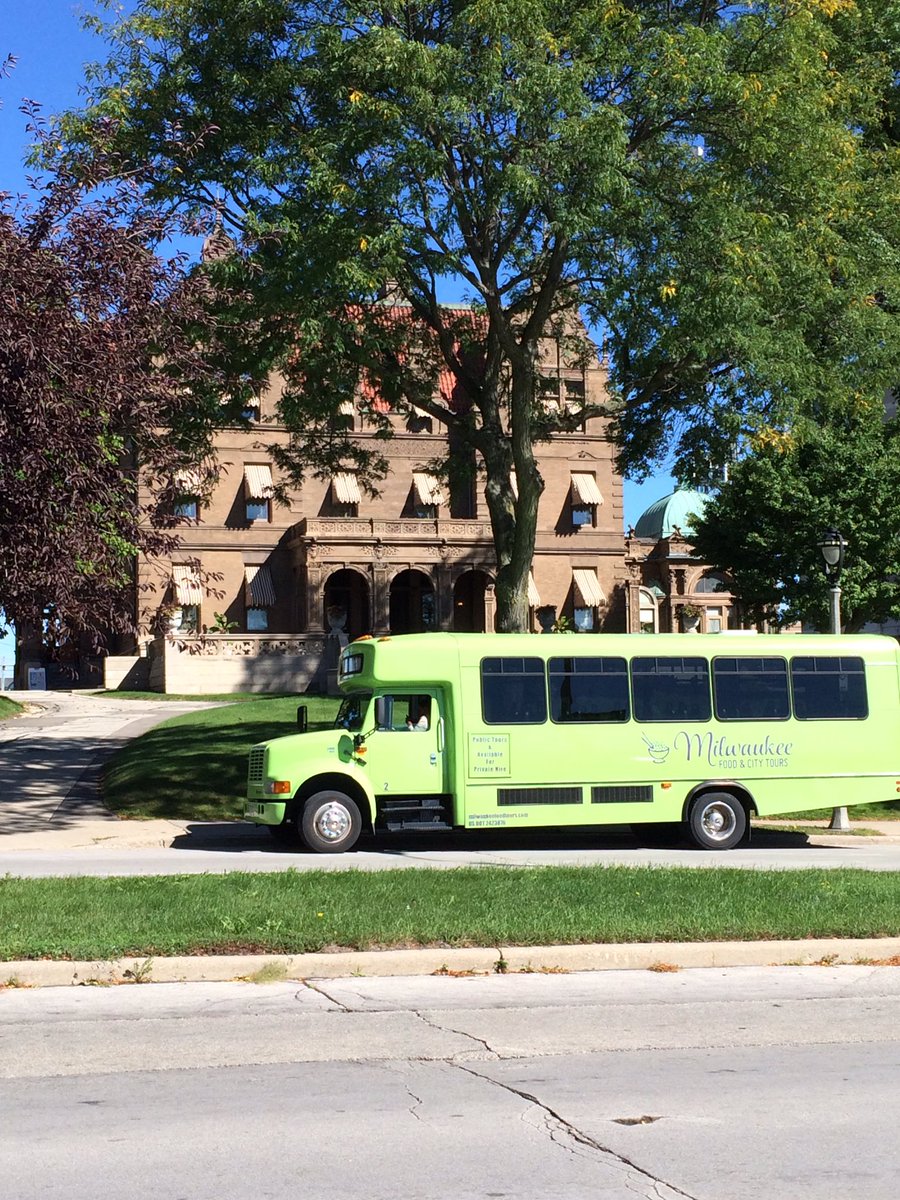 If you are planning a reunion in the Milwaukee area, be sure to let Milwaukee Food & City Tours help you create a custom (and stress free!) tour that will guarantee the experience will be one that everyone will enjoy! From simply providing transportation, to leading a city tour, to scheduling a food tour for lunch or dinner, to creating a custom experience – we enjoy working with groups of all sizes.
Our top 5 reunion activities in Milwaukee with Milwaukee Food & City Tours?
· Sightseeing City Tour (bus tour) – A great way to explore downtown Milwaukee to see the city's top attractions and neighborhoods. This tour can be offered as a 1 – 2 hour driving tour, or can have time built in for stops at attractions along the way. This is a great tour for any budget and can be adapted to meet the interest of the group.
· Bloody Mary Brunch Tour (walking) – We visit 4 restaurants in the Historic Third Ward for half sized Bloodies and brunch items, all while learning about the neighborhoods history and exploring the RiverWalk too. This is a great tour for a Saturday afternoon or Sunday post-reunion outing.
· Tacos & Tequila Tour (bus tour) – The title of the tour says it all – we visit three hidden gems in Milwaukee's Latino community for tacos and tequila along with narrated fun – and dessert too!
· Old World 3rd Street Tour (walking) – Visit the historic streets of Old World 3rd Street while sampling some of the foods, beers and shops of German Milwaukee that laid the foundation of our city today!
· Progressive Ethnic Meal or Custom Tour – Milwaukee Food & City Tours loves to create custom tours. Check out some examples HERE or give us a call at 262-853-5239 or email grouptours@milwaukeefoodtours.com to start planning your next adventure!