When we started Milwaukee Food & City Tours in 2007, we had no idea the collection of stories that we would amass from meeting such unique individuals from around the Midwest, country and world! One of the frequent questions we are asked now is, "What are some of the oddest or coolest tour situations you've been in?" After 10 years, we've seen our share of interesting scenarios! Here's our "Top 10 Moments in 10 Years":
1. Broken Hearted in Milwaukee: Our very first accident involved a gaggle of girls on one of our high school field trips, ogling a shirtless Milwaukeean putting his trash container on the curb… and then said high school girls proceeding to trip off the curb. Several bloodied toes and knees resulted; no broken bones though – just broken hearts.
2. A Midsummer Night's Mooning: There is nothing more beautiful than a summer's moon. With one exception. Our group was standing in front of The Irish Pub in the Historic Third Ward when a patron inside mooned the entire tour group- checks pressed perfectly up against the bay windows. Much tour laughter ensued on our Bloody Mary Brunch tour and we had quite the blushing tour guide!
3. The Summerfest Swimmer: During Summerfest, we often come across festival goers walking home through the neighborhood. One late-night tour group encountered a young man stripping down to his skivvies, then jumping into the Milwaukee River for a swim home? Eventually he was fished from the river to safety.
4. The Cheesy Bride: We love renting our buses to local brides and grooms on their wedding day to take wedding photos around Milwaukee, as well as to shuttle guests to/from area hotels. Often times we accommodate very special bridal requests, so when local bride Janna asked our driver to pull into McDonald's, we were happy to do so. She pre-ordered 100 cheeseburgers as a late-night treat for her guests in route to the reception. Hours later our driver made sure to pick up the burgers and have them hot and ready on the bus for the post-wedding reception trips back to the hotel!
5. Food Tours – Not just for Humans: It was impawsible to say no to this far-fetched idea, but we hosted a food tour for our 4-legged friends during National Dog Week. We raised the ruff at The Wicked Hop to eat outdoors on the patio, visited some local stores for dog food tastings and agility sessions, were pampered at a doggy spa, and even stopped at a dog friendly bakery for some treats to cap off our tour together. Bone Appetit!
6. No Ring? No Problem: We love celebrating brides-to-be on our tours, but discovered that we can celebrate brides-to-NOT-be just as easily. We planned a fantastic outing for a destination bridal party, but discovered on tour day that the groom last minute declined the pending nuptials. The bride decided that the party must go on, and we had a fantastic time celebrating the single life, and bridal party friendship.
7. Who Are the People in Your Neighborhood: We have met so many Milwaukeeans on tours that share wonderful memories from their own lives during our tours. While on a Brady Street lunch with generations of women from a family celebrating Mothers Day, mom (Gail) shared about the time she went out as a little girl for this extra special treat that her father had heard about called… PIZZA. Her first slice of this exotic dish was at Zaffiro's, right on Brady Street, and the starting spot of our Brady Street lunch tour!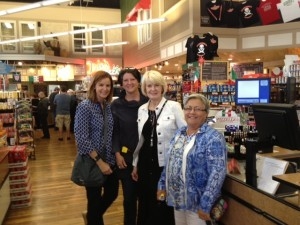 8. YES, That Was A Camel: We pride ourselves on having well-versed tour guides able to easily navigate the city and change course at a moment's notice. This was put to the test when our Sightseeing City Tour was rerouted for a wedding party, featuring a camel, walking down the middle of Wisconsin Avenue in route to The Pfister Hotel.
9. She Said YES! We were cheering when a gentleman took to bended knee in Cathedral Park surrounded by the beauty of the Christmas lights and their families, to ask a blushing bride-to-be for her hand in marriage during our Christmas Lights & Desserts tour. And we were really cheering when we said our tour goodbye's and sent a bride and groom with a late afternoon wedding to the courthouse. They chose Milwaukee Food & City Tours as their pre-wedding activity for their families to get to know each other and their neighborhood before they said, "I Do, I Do."
10. Nature At It's Finest: As we've expanded through the years, we've begun to offer daytrips and overnight adventures. During a weekend excursion to Frankenmuth, MI, we discovered the importance of always being prepared for a deviation in a tour day. A squirrel ate through the main power line leading into Frankenmuth and knocked out power to the entire city! We adjusted our itinerary to feature non-electric required activities until the lines were fixed! In 2017 we're offering several trips, including a "Real Housewives of Amish Country" overnight trip to Indiana!