As a city, Milwaukee might not be the first destination that comes to mind when one thinks of romance. However, beneath its industrial exterior, Milwaukee offers an array of intimate and romantic experiences for couples that make it a hidden gem for lovebirds.
Nestled along the southwestern shore of Lake Michigan, Milwaukee combines the charm of a small town with the amenities and vibrancy of a larger city. The waterfront location offers breathtaking sunset views and tranquil strolls along the river or the lake, setting the perfect backdrop for romantic outings.
The city's rich history adds a layer of enchanting allure, with its historic buildings, such as the Pabst Theater and North Point Lighthouse, providing unique venues for romantic dates. The Historic Third Ward, known for its cobbled streets, boutiques, and cafes, feels like a step back in time and offers an intimate atmosphere perfect for leisurely walks and candlelit dinners.
Culturally, Milwaukee thrives with an impressive arts scene. The Milwaukee Art Museum, home to stunning architecture and a world-class art collection, offers an inspiring and thought-provoking day out. Watching a performance at one of the city's many theatres can lead to magical, shared experiences that stir emotions.
Nature also plays a significant role in the city's romantic landscape. From biking the Oak Leaf Trail to picnicking in Lake Park, Milwaukee offers green spaces where couples can connect amidst nature's beauty. The Mitchell Park Horticultural Conservatory, with its unique plant-filled domes, creates a truly special and unusual setting for a romantic stroll.
And let's not forget about the city's food and drink scene. Known as the "Brew City," Milwaukee offers a host of breweries and wineries, perfect for a cozy tasting session. The dining scene varies from upscale eateries to hidden gems, catering to any culinary desire you and your partner might have.
In essence, Milwaukee's blend of history, culture, nature, and culinary delights crafts an unexpected but captivating atmosphere of romance. This city certainly has a lot to offer to those looking for unique and memorable ways to celebrate their love.
Here is a list of 13 popular Milwaukee date ideas:
Shop Till You Drop
The Milwaukee Riverwalk spans three neighborhoods, creating a beautiful and serene environment that's perfect for a romantic walk and a chance to stop to shop at one of the many boutiques, or to eat at one of the many restaurants and cafes.
Or, get away from the city and enjoy a stroll and shopping in a nearby community like the Village of Wauwatosa, Cedarburg, Lake Geneva or Racine. On our Cedarburg Sweets & Treats Tour, we make it easy for you to explore the hidden gems of historic Cedarburg while noshing on some of the most delicious chocolates and desserts you've ever had, tied together with a winery visit for wine.
Visit the Milwaukee Art Museum
Spend an afternoon exploring the unique exhibits at the Milwaukee Art Museum. Not only is the art itself breathtaking, but the museum's building is also a work of art in its own right.
Take a Boat Tour
Book a romantic sunset cruise on the Milwaukee River or Lake Michigan for a unique way to see the city. For the ultimate hassle-free experience, MKE Boat Line and Edelweiss Cruises offer public and private tours that include food and drink options so you can sit back, relax, and enjoy the beauty of Milwaukee's waterways.
If hands-on cruising is more your style, Milwaukee Kayak Company offers guided tours and rentals for kayaking and canoeing, suitable for all skill levels. For an experience that is somewhere in the middle, try Milwaukee Paddle Tavern and Riverwalk Boat Tours, where you can enjoy food and drinks while cruising along the river. With three major rivers and a Great Lake to explore, there's no shortage of water activities to explore!
Experience the Pizza Bus
Skip the romantic meal and instead enjoy an evening discovering Milwaukee through its pizza on Milwaukee's Pizza Bus tour! Together we'll enjoy a big serving of New York-style pizza, as well as an Old World pizza made by traditional wood-fired oven, and enjoy a generous sampling of the quintessential thin-crust pie that came to define Milwaukee-style pizza. Along the way, we'll talk about pizza in its early days – and how it has become one of the world's most popular foods. Be sure to save room for dessert; this excursion concludes with a divine scoop of gelato!
Pizza isn't your thing? The Historic Bar Tour or the Tacos & Tequila Tour also makes a great night out!
See a Performance at the Pabst Theatre
Built-in 1895, this beautiful theater is the perfect setting for a romantic evening. The Pabst Theatre hosts over 100 events per year and is sure to have the perfect date night performance on your visit.
Visit the Mitchell Park Horticultural Conservatory
Does your date love flowers? Skip buying a bouquet and go directly to the Mitchell Park Horticultural Conservatory, also known as The Domes, to explore the wide variety of exotic plant life.
There are three different domes to stroll through, featuring three distinct climates: desert, tropical, or temperate flora. There's even an outdoor butterfly garden and another for pollinators! The Domes include two permanent collections – the tropical 'jungle' dome and the arid 'desert' dome. Both Domes are open to the public year-round and stay nice and warm, even in the middle of winter, so you can different times throughout the year to see different plants in bloom.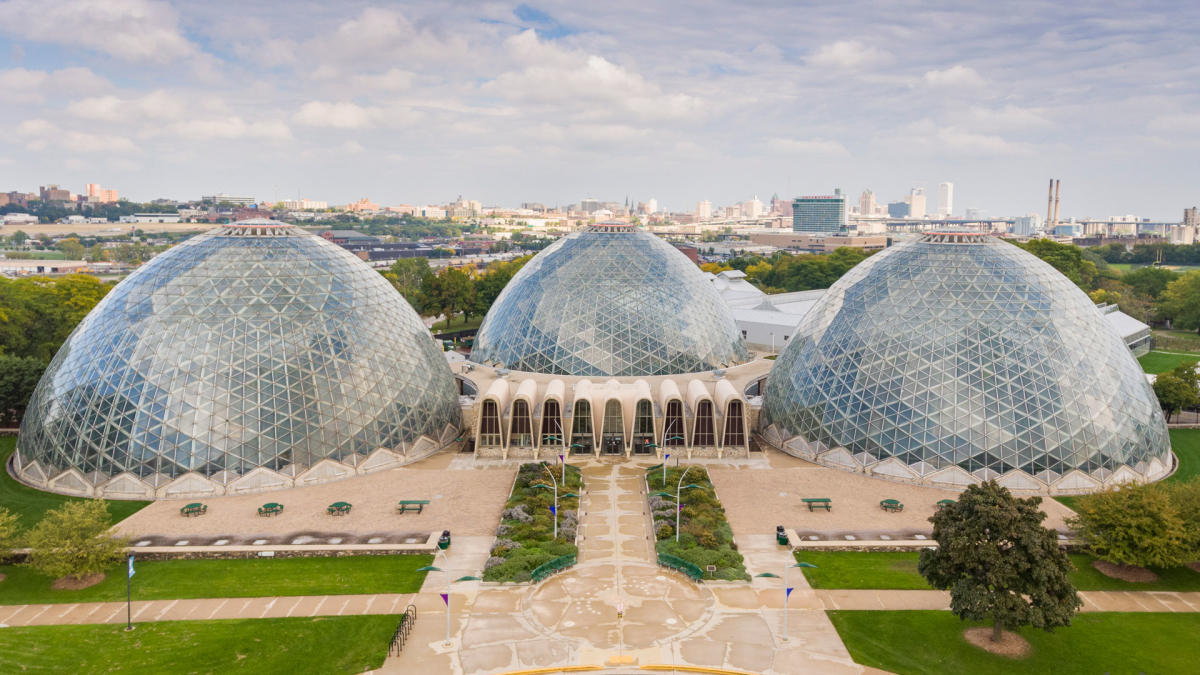 Sip & Stroll through Walker's Point
Uncover the hidden gems of the vibrant west side of the Walker's Point neighborhood, renowned for its craft breweries and flavorsome delights on the Walker's Point Stroll, Sip & Savor Tour. Join Milwaukee Food & City Tours on a stroll through this historic district, stopping at four notable establishments where you'll have the chance to sample tacos, a soft pretzel, a half-sized margarita, a full-sized dessert cocktail, and samples totaling a little over two pints of beer. From refreshing craft beers to unique cocktails, each sip will tantalize your taste buds and showcase the neighborhood's thriving culinary scene.
Visit a Brewery or Distillery (or 2, or 3…)
Milwaukee has a rich beer history. Whether you stick with classic Wisconsin traditions or are one to explore new trends, we have a tour for you. Did you know that it was German immigrants who brought with them the knowledge of German Brewing techniques that established Milwaukee as "Brew City"? That Milwaukee has become home to a growing distillery and cocktail scene? Whether you are in the mood for a German pretzel or a breakfast Bloody Mary, come along for a delicious libation and fun history.
Take in a Bloody Mary Brunch, a Historic Bar Tour, or a Craft Beer & Distillery tour with Milwaukee Food & City Tours to discover the best breweries and distilleries in Brew City at https://www.milwaukeefoodtours.com/brewery-bar-tours/
Bike the Oak Leaf Trail & Stop for a Beer Too
Feeling outdoorsy for your next date? Rent bikes and cycle along the Oak Leaf Trail, which offers stunning views of the city and Lake Michigan.
In fact, nearly a quarter of the trail hugs the beautiful shores of Lake Michigan! The trail system is mostly smooth asphalt, with dozens of easily accessed connections that take you just about anywhere in the Milwaukee metro area, so you can take a break from biking and stop for a beer at several of the Milwaukee County Parks Beer Gardens that along the trail.
Root on the Milwaukee Milkmen at The Rock
What do you get when you combine baseball and dinner time?  Date Night Entertainment like no other!  
The Milwaukee Milkmen are Milwaukee's Pro Baseball team that is udderly different: Moo as loud as you can with Van "The Milkman", chase down and catch a home run in the outfield, and enjoy the best of Wisconsin dairy with a milkshake and fried cheese curds at the concession stand.
Visit the 3rd Street Food Hall
Food, Drink, and year-round FUN all in one indoor location! Head out to one of Milwaukee's numerous food halls, including the 3rd Street Food Hall in the reimagined Grand Avenue Mall space. Not only filled with delicious eats, but activities available include…
Topgolf Swing Suites where you and a date can practice your swing or take your skills to the green with virtual golf simulators.
Gamer's Lounge with retro and current games where you and your date can try out (or reminisce with) the OG's or hone your skills on modern classics. 
Level up in the Gaming Lounge. Try out (or reminisce with) the OG's or hone your skills on modern classics.
Two custom-built Shuffleboard Courts, and The Turf: a 50×50 space of astroturf outfitted with everyone's favorite backyard games: Bags, Giant Jenga, and other classic yard and board games. 
Picnic in Lake Park
Pack a gourmet picnic and head to Lake Park for a relaxed afternoon. Lake Park has been a Milwaukee gem since 1889. Enjoy the great stretches of open, meadow-like spaces, winding paths that lead to surprising vistas, large scapes of wildlife, and lastly, a gorgeous view of Lake Michigan. Make a quick stop at Glorioso's Italian Market on Brady Street, and you will be able to grab a bounty of picnic items!