When it comes to fish fry's – Milwaukee does not disappoint! You could find yourself dancing to a polka in a traditional beer hall while enjoying locally brewed beer-batter delights, dining with your family in a church basement, toasting in a local tavern washing down some fresh fried perch, or enjoying a classic supper club. Milwaukee restaurants are serving up this Friday night staple during the Lenten season and Milwaukee Food Tours is excited to help showcase a few of these hotspots on a special Milwaukee Fish Fry Tour, available only during Lent!
What creates the best fish fry in downtown Milwaukee?
On our Milwaukee Fish Fry Tour, it quickly becomes clear that the 'best fish fry" is a matter of personal preference. The star of the show begins with a beautifully seasoned piece of fish, dipped in flour and often a secret beer batter recipe, and then either pan fried or deep fried to a delicious golden perfection. We asked recent food tour attendees what they love about a good fish fry and Debra from Sheboygan, commented, "It's that crunch – I love the crispy breading and then the flaky melt in your mouth tenderness of the fish."
Iconic Milwaukee Not-to-be-Missed Fish Fries During Lent
1. Clifford's Supper Club: Serving up tasty all you can eat deep-fried Iceland Cod with homemade tartar sauce and crispy French fries. Perfectly paired with an old fashioned!
2. Lakefront Brewery: Do you prefer a little polka entertainment with your beer-battered cod? If that is the case, you can't go wrong with Lakefront Brewery with its family style seating and serving. The batter is a secret blend of tasty Lakefront beers, battered and fried to perfection. If drinking locally brewed beer, polka and one of the best fish fries in town isn't Milwaukee, I don't know what is.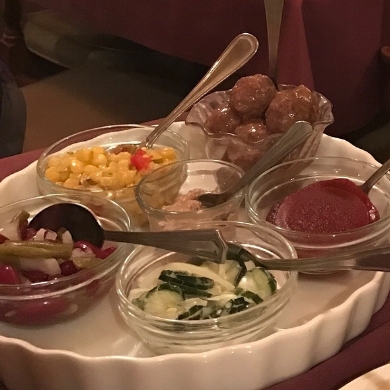 Relish tray at Dobie's Steak House in St. Francis, WI
3. Dobie's Steak House: There is something nostalgic about grabbing a Brandy old fashioned and cozying up on a Friday night while nibbling on pickled eggs, cucumber slices, radishes and green onions right off the relish tray as you wait for your battered fish fry to arrive.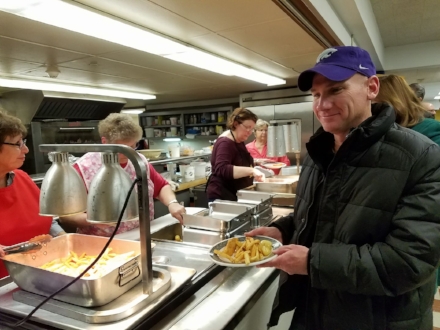 Sampling both beer battered cod and smelt at St. Florian Catholic Church in West Milwaukee.
4. St. Florian Catholic Church: St. Florian's offers one of the most popular church fish fries in town, serving up not only fish, but salad and dessert bars with all of the fixings! (P.S. On our tour, when we have a chance to visit these churches, we also enjoy a church tour provided by Father Mike!)
5. Mibb's & Viv's: This gem has been located in its original location since the late-1800's and operated by great-grandson of its founders Mibb and Viv. This classic Wisconsin bar makes a fantastic breaded version of the classic fish fry. The side dishes are a standalone supporting cast of stars with seasoned potato pancakes, applesauce, coleslaw, bread and tartar sauce. Upon arrival at Mibb's & Viv's, be sure to place your food order at the bar, then order a Milwaukee brewed beer and sit back to unwind to the weekend while waiting for your table and meal to become available and served.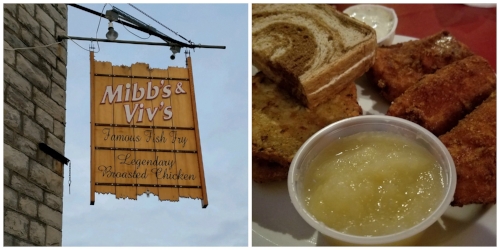 Breaded haddock with applesauce, potato pancakes, coleslaw and rye bread at historic Mibb's & Viv's in Sussex, WI
Travel anywhere else in the United States and ask a local, "Where can I find the best fish fry?," and you may be met with mixed reactions. For example, sometimes you might get a blank stare, a clarifying question such as "you mean fish and chips?," or my personal favorite, "do you mean like a Fillet-O-Fish?" Here in Milwaukee though, one could argue that outside of a controversial referee call during a Green & Gold football game, there are few things that can spark more passionate conversation than comparing favorite fish fries in the city.
Are you up to spotting the best fish fries in Milwaukee?  Join our tour! Offered every Friday during Lent beginning at 5:30 pm – or available year-round for private tours – our Milwaukee Fish Fry Tour let's you decide for yourself who offers the best fish fry! Our tour visits 3 establishments so that you can decide for yourself who offers the best Milwaukee fish fry. You'll sample a half-sized portion of a fish fry along with sides such as potato pancakes, coleslaw and apple sauce at each stop that we visit. As with all of our food tours, guests are encouraged to save room for dessert – in this case, a scoop of legendary Milwaukee-style custard. Reserve your seat before they sell out!