I've often said that the best benefit of starting Milwaukee Food & City Tours is the amazing people we get to meet along the way. With today being Veterans Day, I would like to take a moment to reflect on one such amazing group that we designed a custom tour for during their military reunion in Milwaukee.
It all started with a phone call from Bob and Richard, who I later met with at a local bakery, to begin to plan out a reunion trip for their fellow Korean War comrades who served in 1952 in the 25th Division. Bob and Richard met in the war and have been best friends ever since, even now as neighbors, in Wauwatosa. They set out to plan a nationwide reunion with their other Wauwatosa friend, Roolie, who not only served in the Korean War but WWII as well!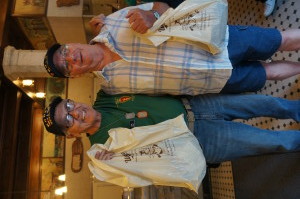 Through our meetings, I learned that they all served in the Photo Division and took still photos (with real film!!) and video to provide G2 Intelligence for their fellow soldiers in combat.
On reunion day, we picked up the group of 20 men and their families at their hotel in our custom, mini-coach bus driven by Hazen, a Marine himself. We loved that not only did spouses attend the reunion, but so did multi-generations of families. One of the attendees had his daughter and grandson drive from St. Louis, MO to attend the weekend of activities – the grandson was compiling a report for school about the history lesson that he would gain from his weekend with grandpa.
After the hotel pick up, we embarked on a day of touring in Milwaukee. We began with a private tour at the VA touring the cemetery grounds via bus, learning about the historic buildings including Old Main (the only original Soldiers Home building in the country designed to combine multiple basic veteran care functions under one roof), and talking about President Abraham Lincoln's role in the creation of the U.S. Department of Veterans Affairs. From there, we departed down Wisconsin Avenue for a historical tour through the eras, pointing out its unique architecture along the way. We found ourselves next at the St. Joan of Arc Chapel. We were able to make arrangements for a police escort with our tour bus through the center of the Marquette University campus right to the chapel front doors for this multi-generational group. At the chapel, a docent provided a tour and each of our guests had an opportunity to touch the stone St. Joan of Arc herself is believed to have knelt down and prayed upon.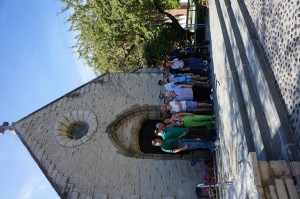 Having built up an appetite with our morning of historical touring, we next ventured for a leisurely lunch designed to show off several parts of the city. First, we stopped for Wisconsin cheese, Usinger's sausage, Lakefront Brewery beer and shopping on Old World 3rd Street. Next, we were off to Milwaukee's last remaining Polish restaurant for a truly authentic sit-down meal complete with camaraderie and tales. And, finally, there is always room for dessert, right? We capped off our day with this amazing group of veterans with a stop for Milwaukee's legendary custard at Leon's. Their tour guide, Jean, commented that the veterans said that at their reunions they "eat and talk and hug and eat and hug some more, " so we think our tour was the perfect fit for them indeed!
Besides the stories gained throughout the day, one of the most touching moments was being witness to the many strangers who stopped our veterans throughout the day to thank the gentlemen for their service to our country. I am proud to know that my fellow Milwaukeeans took a moment of their day to thank them for their time in the military. Thank you for your service gentlemen, and thank you to all of our Milwaukee Food & City Tour fans that have served our country and protected our freedoms.
Are you looking for things to do while bringing a reunion or group to Milwaukee? We would love to have the opportunity to create a custom tour just for them – just call us at 262-853-5239 (Theresa) or email theresa@milwaukeefoodtours.com today to begin planning your itinerary!